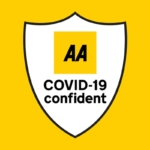 Updated September 11, 2020
As this continues to be a dynamic situation these additional T&Cs may need updating as we go through the rest of the season. You will be sent the most recent version approximately five days before your arrival date.
All businesses are required to conduct a Health and Safety Risk Assessment in respect of COVID-19. We can confirm that we have done that and are open with these additional new rules in place. You may well find that we are doing things differently to other sites, but we ask that you understand and respect that there will be reasons for this confusing discrepancy. Crucially, some sites may have most of their facilities open, some may not, but there will be other differences as well. Each business will have its own particular protocol based on its environment, its resources and the safeguards it needs to have in place to comply with government rulings.
LATEST – RULE OF 6
If there are more than six of you in your unit you will be asked to confirm that you are all from the same household or support bubble.
Any of you booked with friends please be aware that we will not permit social gatherings of more than 6 as per the conditions within this government ruling. If this is going to ruin your stay please get in touch with us as soon as possible to discuss your options.
Sorry, large group bookings cannot be accepted. Small group bookings may be permitted but you will need to enquire.
You must pre book your pitch as we are currently not able to accept any unbooked arrivals.
IMPORTANT: You will be required to confirm that you and your whole party have read, understood and agreed to these additional terms and conditions as they form part of our contract with you. They may appear rather severe but we would much rather be safe than sorry for everyone's sake.