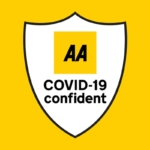 Covid-19 awareness for all our guests with new T&Cs in place.
Covid-19 awareness program and training for staff.
Covid-19 awareness signage across the site.
Enhanced cleaning procedures across the site in our shop and in our holiday properties.
Hand sanitising points at many locations and common touch points.
Contactless check-ins and the use of card payments as much as possible.
Fewer people on site so that social distancing of 2 metres can be maintained outside.
Social distancing measures applied to shop.
Closure of areas where social distancing cannot be achieved.